Donate or Pay Invoice
Make a tax deductible donation to Butte American Legion Baseball please use link below to enter amount.
Purchase season tickets here and a player will deliver them to your door!
Reasons to purchase.

1.  For $30 you get into every Miners, Muckers or Muckers B home game.
2.  There are great discounts on the back!  These discounts will pay for the cost of the ticket in no time.
3.  100% of your purchase will go directly towards a players fundraising needs



Season Pass
2017 Season Ticket
$30.00
Family Season Passs
2017 Family Season Ticket
$60.00
Discounts
Mackenzie River Pizza Butte – Free Mack Lovin' with $20 purchase
Pork Chop Johns – Buy a Pork Chop & fry & get a medium soda free
Universal Athletics – 10% off regular priced merchandise
Papa Murphy's – Buy 1 family size pizza combo regular price & get 1 Med 1 topping pizza free
Star Lanes Family Sports Center – Purchase 1 game of bowling and get 1 free
Butte Stuff for 10% off regular priced merchandise
Perkins – 15% off total bill
Royces – Free med drink with purchase of any sandwich
Butte Copper Company – 15% off purchase
Butte Mile High Chrysler Jeep Dodge Kia $10 off oil change
Pita Pit Butte -10% off
Taco Del Sol Butte -10% off


Purchase your program ad here:
You can pay for your program advertisement below, for new adds please email us your advertisement logo.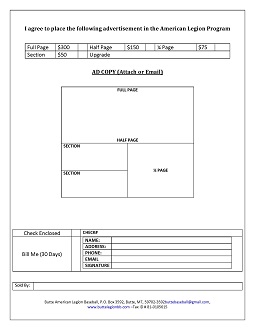 Section
Section of Page Program Ad
$50.00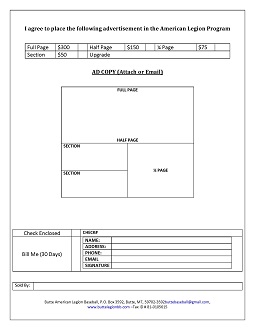 Quarter
Quarter Page Program Ad
$75.00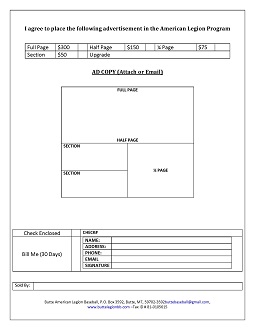 Half
Half Page Program Ad
$150.00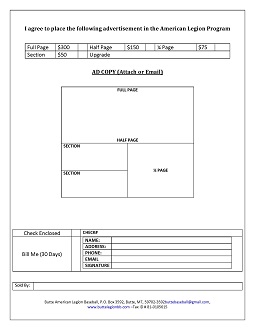 Full
Full Page Program Ad
$300.00
Purchase your Fence Sign here:
You can pay for your fence sign online below and mail email your logos to us to have your sign up in no time.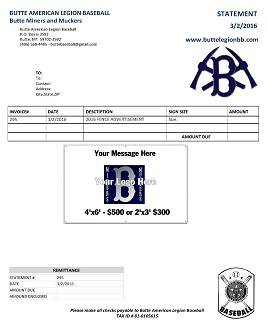 Fence Sign 7x14
Fence Sign
$1,000.00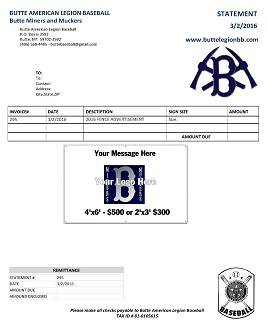 Fence Sign 7x7
Fence Sign
$500.00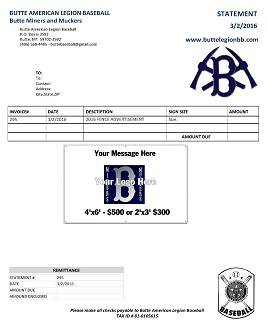 Fence Sign 4x6
Small Fence Sign
$350.00